NOVEMBER EVENTS
SUNDAY FUNDAY
November 22
VIKINGS VS. PACKERS @ 3:25PM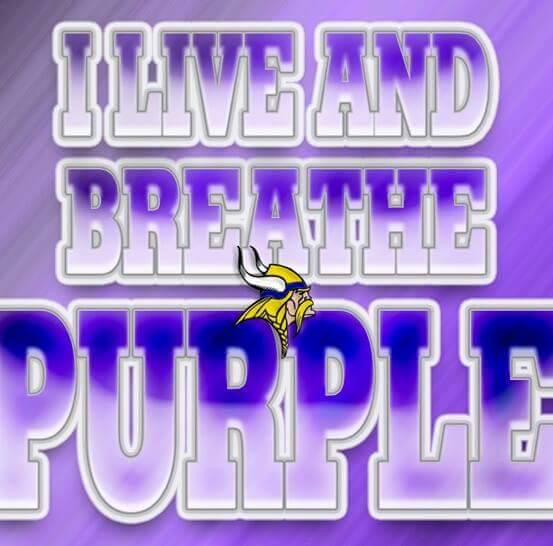 This last Sunday was a great day for football! The Minnesota Vikings victory over the Raiders put us in 1st place in the NFC North!
Join us for the Big game: the Vikings host the Packers.
Beer Bust (Happy Hour Prices on all other beverages)
Pot Luck (Bring a dish to pass and share, more information below)
Prizes (at end of each quarter)
Free shots (at every Vikings touchdown)
Come and join in the fun; wear your purple or green! All are welcome whether Vikings or Packer Fans.
5th ANNUAL TRANS COMMUNITY
THANKSGIVING POTLUCK 4-8PM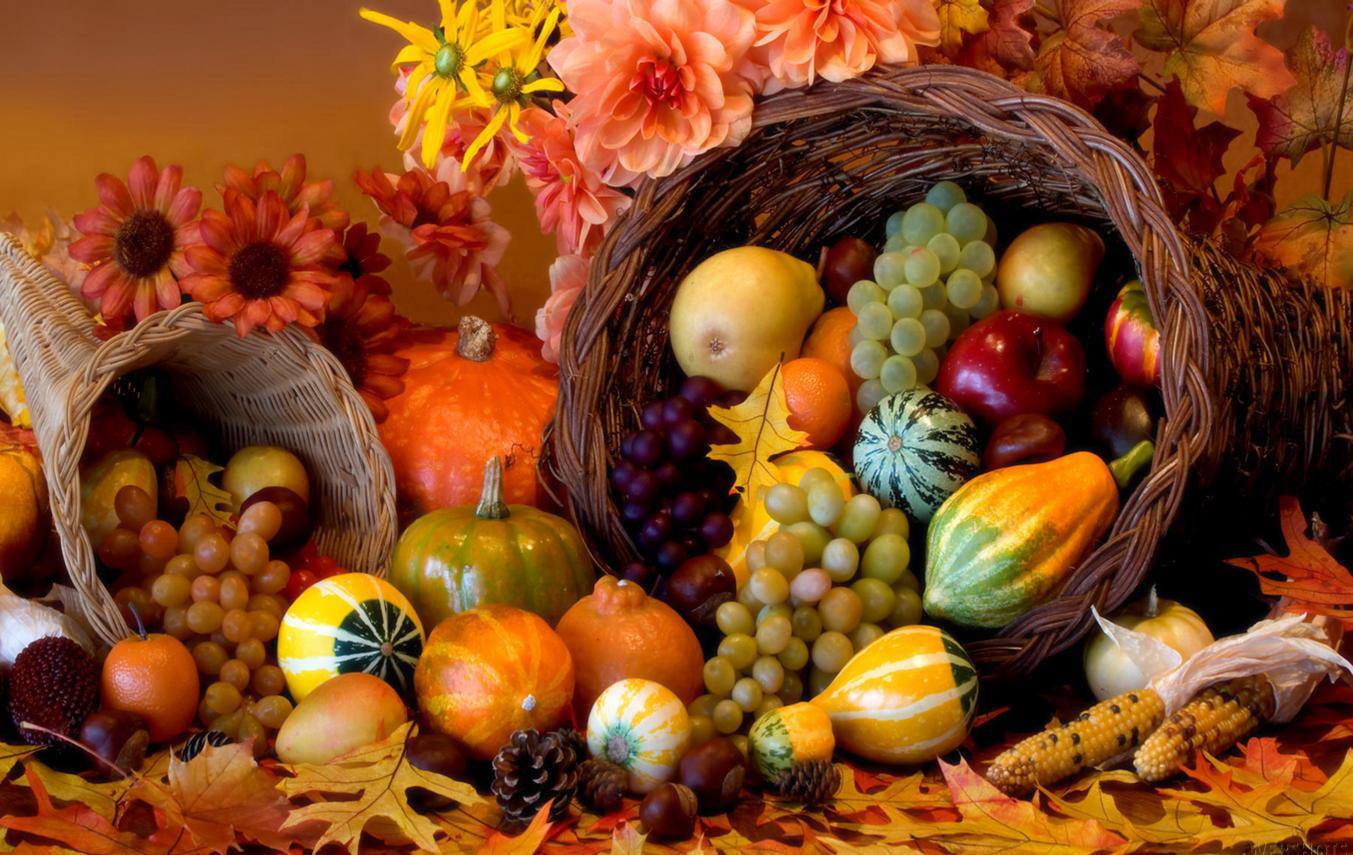 Billie Sage Ashton says It's time once again to be Thankful for friends and Community in coming together for our 5th Annual Trans Community Thanksgiving Potluck Feast on Sunday, November 22 from 4-8PM.
Two Turkeys are being supplied by Brother Dominic Michael Hart and will be cooked and prepared as usual by Larry Eckhart. Special Thanks goes out to both Brother Dominic and Larry in helping to bring our community together. Please bring a dish to share that goes well with Turkey Dinner!
Since this marks our 5th year of hosting this event, I wanted to also do something special. A dear Trans friend of mine named Pat Johnson, a retired Dentist, will be displaying & giving away nice clothes, skirts, blouses, shoes, etc...for anyone to stop by and take what will fit you. These are nice quality clothes and Pat mentioned to me, that she wanted our community to have first choice! Anything left behind afterwards will be dropped off at Goodwill. Clothing will be set up and displayed throughout the day from Noon till 8pm. So stop by and bring a friend! Feel free to invite your friends as all are welcome.
Thursday, November 26
THANKSGIVING POTLUCK @ 3PM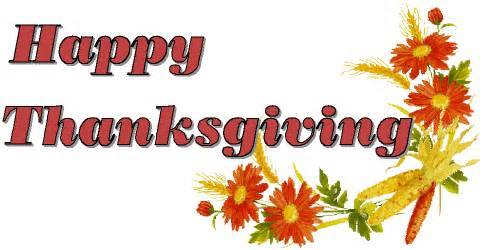 It's Turkey (and all the fixins) Time at the Town House; hosted by Victor and Tony! We will provide the turkey, several sides, plates and utensils.
You can sign up at the bar, giving your name and what dish or dessert you will bring. Ideas: cheese and crackers, vegetable platter and dip, roasted veggies, cake, bars, sweets, etc.
On Thanksgiving Day, all over America, Families and Friends sit down to dinner at the same time - Half time. It's time to come together for a great social gathering and feast the day away; bring a dish to pass around.
Brother Domonic will be donating the Turkeys. All are welcome to join in the fun.We put on an awesome Feast every Year. Join the fun. See you there.
CHEAPIE NIGHT
with DJ TONY D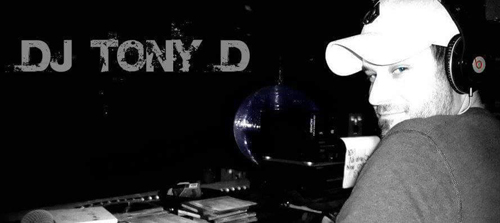 Friday, November 27
YOLO
Hosted by Mia Dorr, Jerry Parker & Aimee Laurann
Saturday, November 28
House of Seville Presents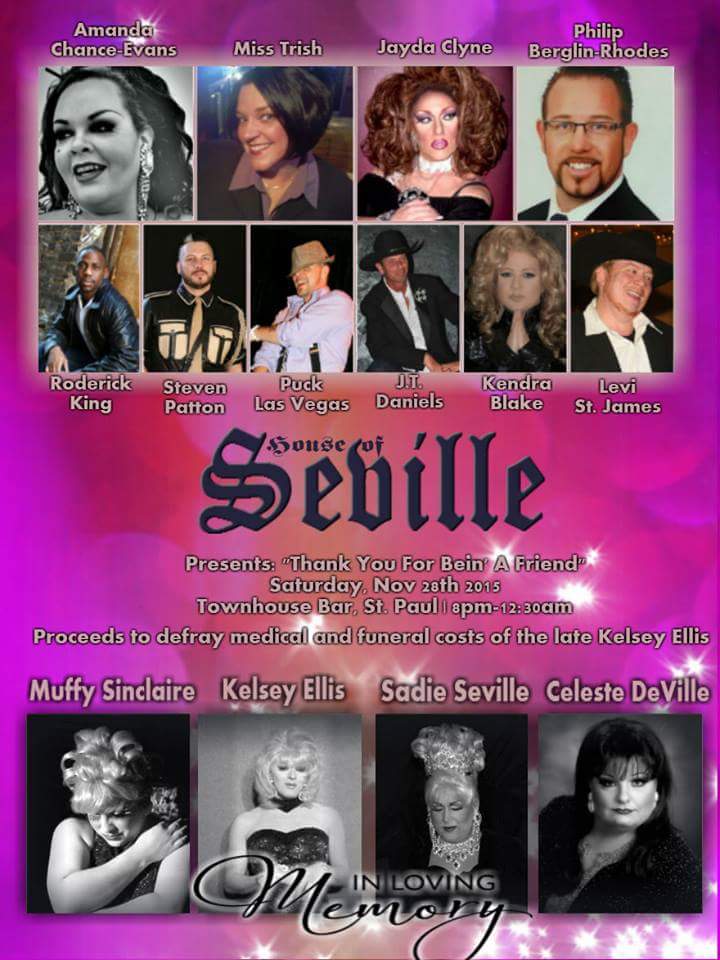 SPECIAL EVENTS
SUNDAY FOOTBALL HAPPY HOUR
with Nate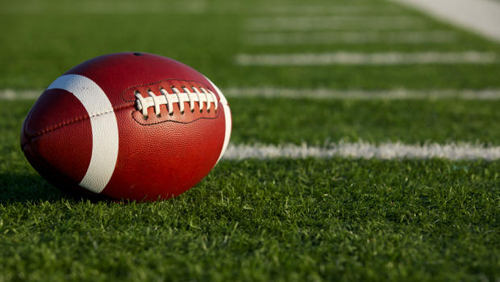 SUNDAY/TUESDAY/THURSDAY = Money Saving Nights!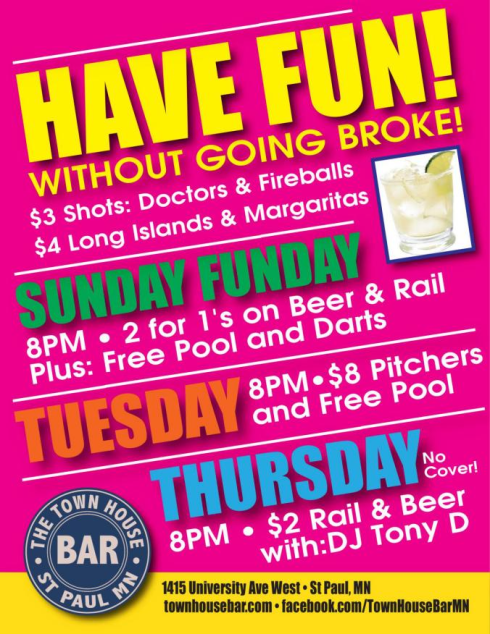 THURSDAY CHEAPIE NIGHTS
with DJ TONY D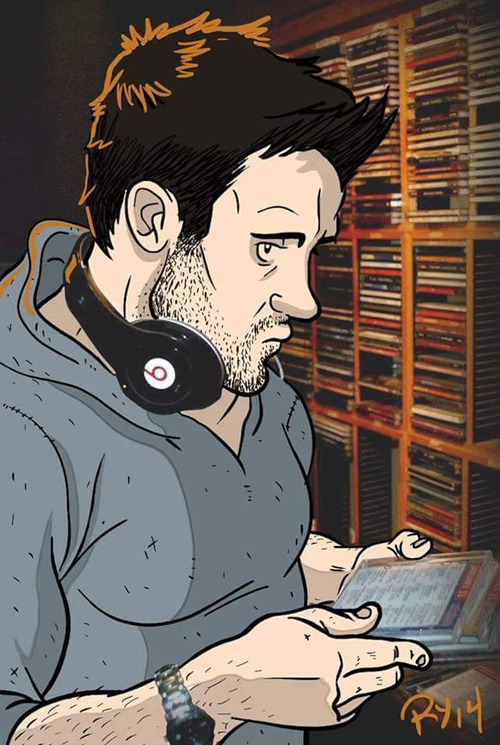 EVERY WEDNESDAY
Pumps & Pearls Drag Revue
with your hostess, Miss Lily White
No Cover. Free Parking. Drink Specials. Karaoke in Back. DJ and Dancing after the show.
FIND US ON FACEBOOK
FOLLOW US ON TWITTER
Tweets by @TownHouseBarStP
Triangle of Hope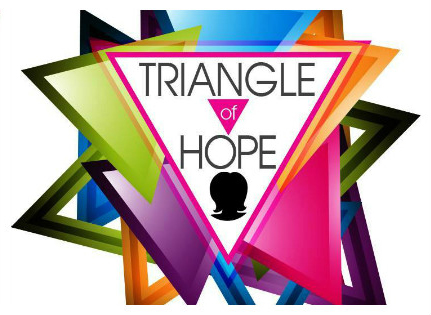 SPONSORS

LOVE, MARY
Triangle of Hope Twentieth Anniversay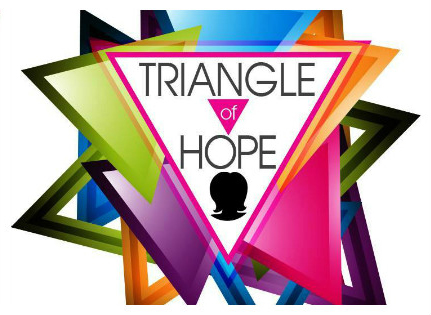 I am going to attempt to put into words what is bursting from the bottom of my heart. "Thank you" seems so inadequate, but I can't think of two more perfect words. First, to the Town House Bar staff: Teresa Swanson, Charlie, DJ Tony, and Mickey Short. Thank you for your hospitality; thank you for all of your hard work in helping pull this event together. A special thank you to bartender extraordinaire David Eriksen: the generosity in donating an hour of your tips is truly appreciated. $191.00! Thank you. Thank you. Thank you. Of course, thank you to the "J-ello Shot Divas": Kristi Wood and Trover Ann. You two were fabulous. Thank you. Yesterday afternoon would not have been possible without the support of an amazing "behind the scenes" team: I am so lucky and fortunate to have such trusted friends that I can give the ball to. You absolutely ran with it. Thank you Bryan Rahn, Donnie Mayo-Moschkau, Kevin Trafton, Scott Olson and Shannon Murphy. Of course, a show of this size is only as good as the cast assembled; this was the biggest show in Triangle of Hope's 20 year history. It was a long day. Each and every single one of you were a pro. Each and every single one of you brought so much energy and talent to the stage. What a thrill for me to share in this special day with you. I am so blessed to be surrounded by such talent. Thank you Anastasia C. Principle, Eric Fleckner, Barbara Gordon, Tom Baas, Dawn Johnson, Dotti West, Dra Matica, Esmé Rodríguez, Ginger Snap, Zeb Schweiger, Lady Katie, Nikki Vixxen, Sweet LillyBee, Tonia Lee Anthony, Uppen Adam, and Yana Falana. My deepest thanks to two special people: Maria Dorr and Dana Pagitt. The recognition you presented me with was unexpected and appreciated more than you'll ever know. It's absolutely beautiful, and I will treasure it always. Almost as long as I will treasure our friendship. I hope you're able to forgive my pulling "diva" and guilting you into a second round. I clearly wasn't taking no for an answer, LOL. Thanks for appeasing me; the end result was another handful (or two) of tips which truly made a difference. A huge thank you to our sponsors; the businesses and individuals in our community that donated services or goods in the form of baskets: Bear Skn, Camp Bar, The Main Club, Carol Peterson, Dell Barse, Larry Eckhart, James Dollerschell-Petry, Tim VanBlaricom, Rainbow Brew, Twin Cities Gay Scene, Tony Olson, and Robert J. Smith. Thank you for your generosity. To the Clare Housing Players, and staff: Chuck Peterson, Xander Croner, Michele Boyer, Mary Boll, Angela Maki Jones, Chris Briggs.....and anyone else I missed: THANK YOU. I am so blessed to know each of you; so blessed X 10 to have formed our special relationship. I am touched by your title of Miss Clare Housing. It means so much to me; validation that I am still on my path of leaving a heelprint I can be proud of. Of course, none of this would have been possible without having a "house" to call "home". For so many things (especially the $500.00 check), thank you Holly Monnett. LASTLY, thank you to each an every person that came out to celebrate in our milestone anniversary. From the "anonymous donor" that pledged $1000.00, to Victor Wikoli and the TCGSL for their $375.00 check, to EVERY OTHER PERSON that bought a ticket or twenty, tipped a dollar or twenty, that made me laugh, made me cry, made me proud to be a part of Triangle of Hope. What an amazing community we are; this success is success shared. So all that remains is the dollar amount. I know yesterday the figure $5000.00 was thrown around. Which is amazing. I think perhaps we were a little premature in announcing; I still have a few i's to dot and t's to cross (which basically means I still have funds coming in), but I'm pretty confident that I can say that the $5000.00 is more like $6000.00. There isn't enough waterproof liquid eyeliner in the world to say one last time, those two perfect words: thank you. From the bottom of my heart. Happy anniversary.
CLARE HOUSING SPEAKS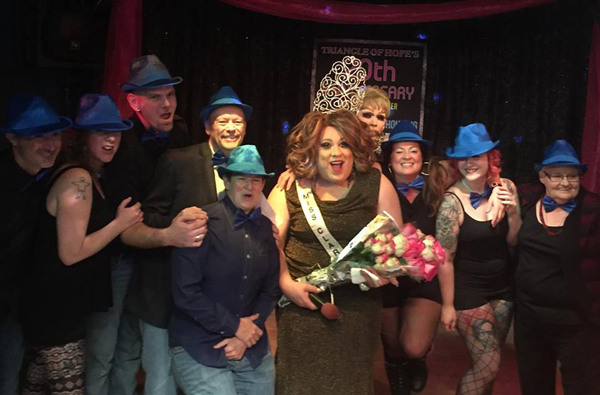 Holy hearts and sparkles! Guess who raised more than $5,300 for the new community room at Clare Terrace Sunday night? That's right, Mary Brewster, the fabulous creatrix behind Triangle of Hope.
Here Mary is after being crowned in a special ceremony honoring the 20th year that she's been doing this fundraiser for Clare Housing. Wow, 20 years! Mary has shown us so much love, and we are so grateful.
Check out that amazing crown! It took four drag queens two minutes to get that puppy pinned on. But if there's anyone who deserves to wear it, it's you Mary! Thank you!
Thanks also to Mary's wonderful volunteers, performers and attendees!
KING OF THE CASTLE
Atticus Blaze crowned as the 2015 winner!
Photo Credit; Sam Price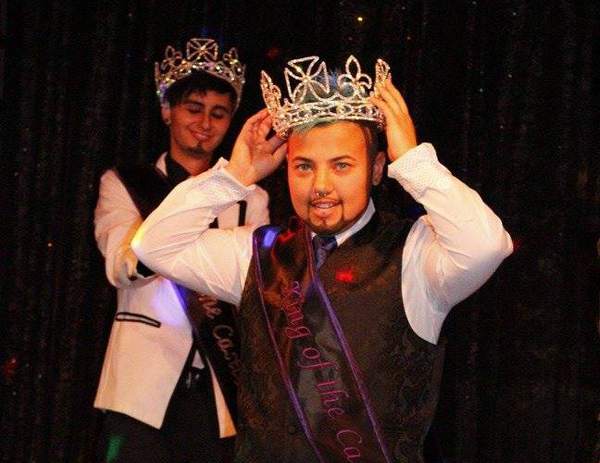 RIP MISS JULIE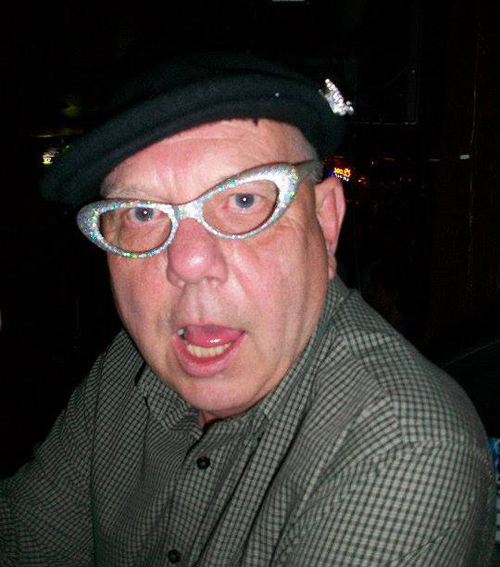 It is with great sadness that we share with you the news of the passing of our dear former employee and forever friend, Mark Nelson AKA "Miss Julie". Miss Julie was perhaps one of the most creative people we've ever crossed paths with; constantly decorating the bar for various holidays, helping coordinate the "Toast of the Town House" pageant, selling raffle baskets for Triangle of Hope, amongst many other "duties". Miss Julie was an absolute treasure, and we will miss our family member tremendously.
RAINBOW BREW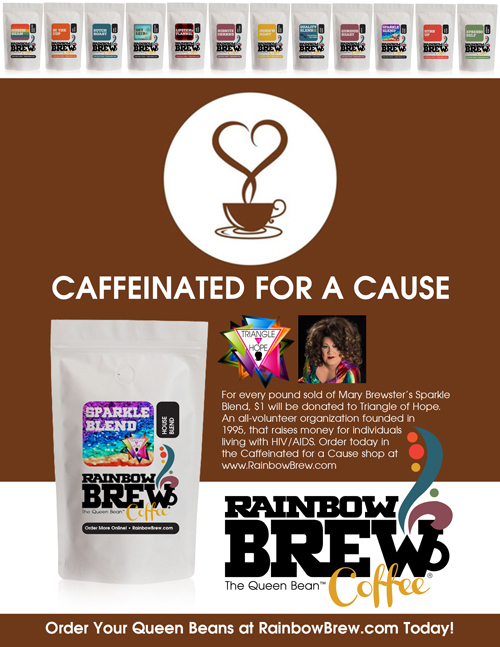 We are just a couple of gay guys from Minnesota that love coffee (at least two cups a day for each of us)!
So we thought... hmmmm... we are buying all this coffee, shouldn't we purchase from a gay owned and operated online shop? Of course we should!
Guess what? There wasn't one! Well at least we couldn't find one. So we created one!
Rainbow Brew is for lovers. Lovers of exquisite full-bodied taste. And lovers of life.
We're a small, gay-owned company that's big on passion. Passion for coffee. Savoring. Indulging. Sharing. And celebrating.
Nestled alongside the pristine St. Croix River in Stillwater, Minnesota, our roastery is pure magic. It's a place of alchemy. Starting with our globally-sourced artisan shade-grown, high-altitude coffee beans that we gently roast in micro batches of just 5 ½ pounds.
We're a boutique brand. And we go to the ends of the earth to make sure you experience perfection—cup after cup. Our secret? Roasting and blending artistry, along with daily inspiration from the river creates a truly authentic, delectable, deep earthy richness that embodies the sun, wind and water. It's an experience you won't find anywhere else.
Your one stop shop for Fair Trade Coffee! 100% Gay Owned & Operated!
Brew something good today!
David & Cory