DECEMBER EVENTS
Friday, December 12
Nudie Nubie
Hosted by Foxy Tann & Red Bone
Saturday, December 13
Sparkle
Hosted by Mary Brewster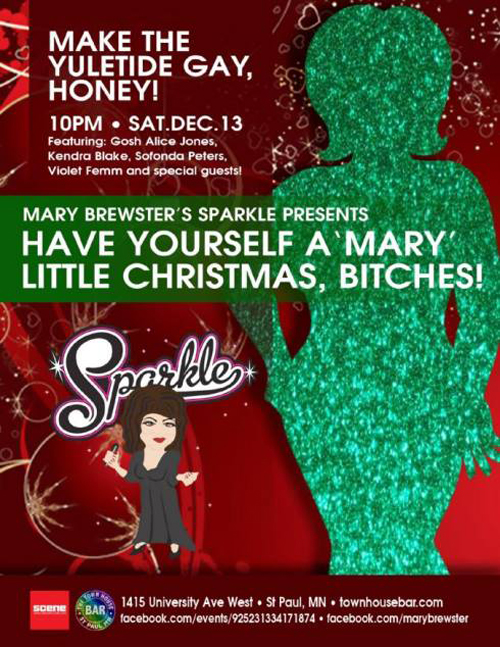 Wednesday, December 17
Dottie West Birthday Celebration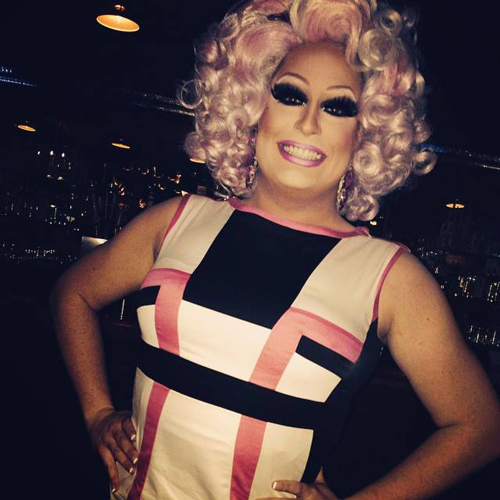 Performers include:
Our show director: Lily White
Mary Brewster
Dra Matica
Anastasia Chapelle
Bad Karma
Azalia Selena Cruz
BJ Holly
Friday, December 19
Dragged Out
Hosted by Nikki Vixxen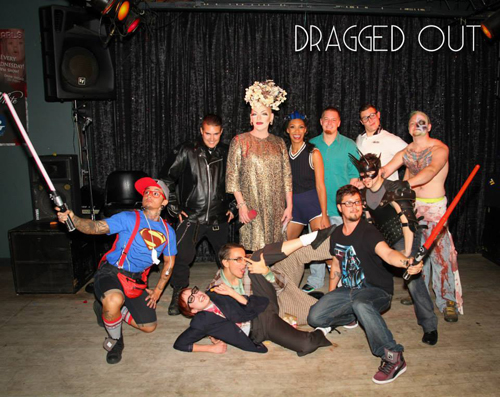 Saturday, December 20
Drag 'n Dance
Hosted by Esme Rodriguez
Friday, December 26
YOLO
Hosted by Mia Dorr, Aimee Laurann & Jerry Parker
Saturday, December 27
Suck It
Hosted by Victoria Deville
Wednesday, December 31
New Year's Eve with the Pumps & Pearls Drag Revue
Hosted by Miss Lily White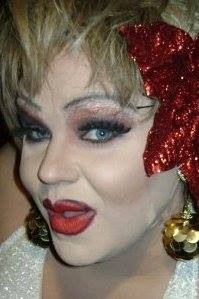 SPECIAL EVENTS
PAY IT FORWARD
The Town House Bar's 2nd Annual fundraiser for Saint Stephen's Street Outreach and the Saint Paul Mounted Patrol runs DECEMBER 5 - DECEMBER 26. All of the "regularly scheduled shows" including Dragged Out, Lip Service, The Pumps and Pearls Revue, Sparkle, Suck It, and YOLO will be performing a "special song" during their show; all $$$ raised during that number will be paid forward to these two local organizations.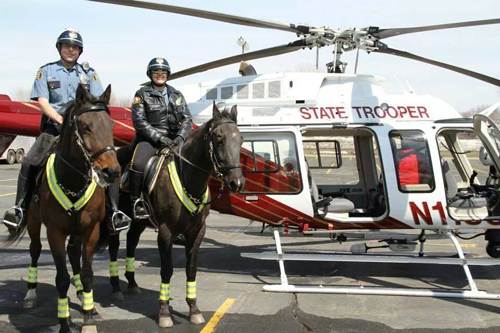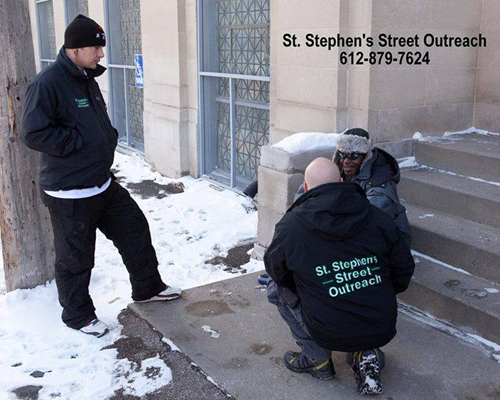 EVERY WEDNESDAY
Pumps & Pearls Drag Revue
with your hostess, Miss Lily White
No Cover. Free Parking. Drink Specials. Karaoke in Back. DJ and Dancing after the show.
FOLLOW US ON FACEBOOK
FOLLOW US ON TWITTER
Tweets by @TownHouseBarStP
Support Triangle of Hope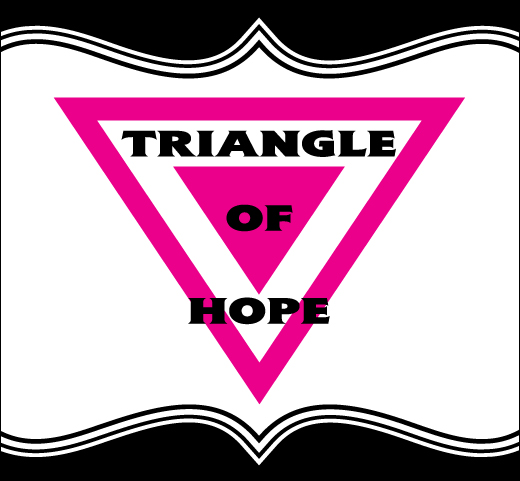 SPONSORS

THE AMAZING MARY BREWSTER!
Congrats to Mary Brewster and Triangle of Hope; $2387.00 raised for Clare Housing!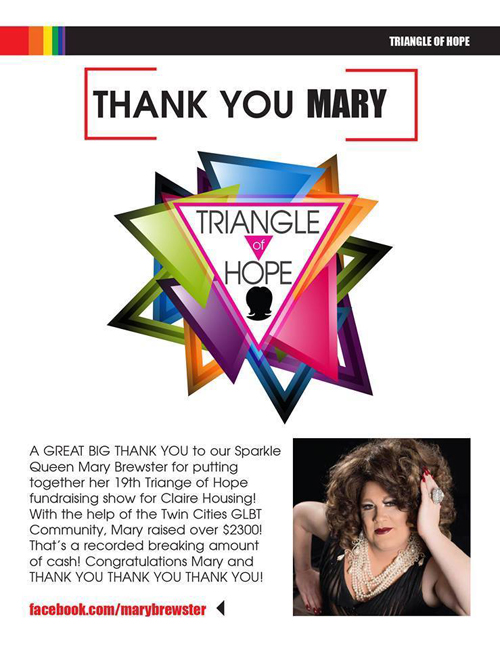 Photo courtesy of Twin Cities Gay Scene
KING OF THE CASTLE
Congrats to Ty Torres, KING OF THE CASTLE 2014!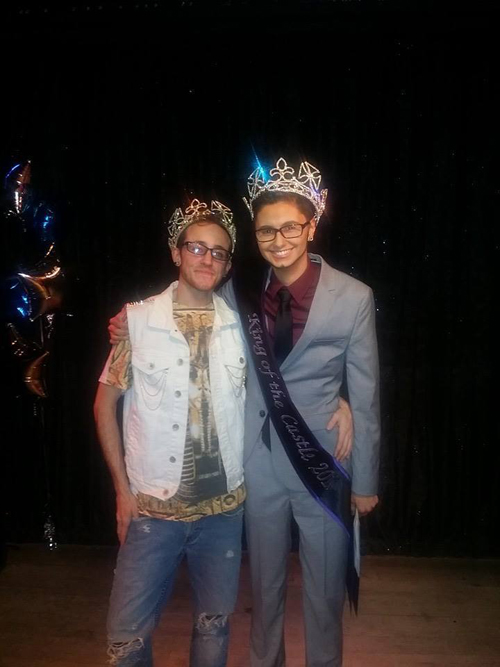 CHI CHI's XXX-MAS
"The Town House Bar in Saint Paul was the place that gave us our big break to host and be show directors." — Chi Chi LaRue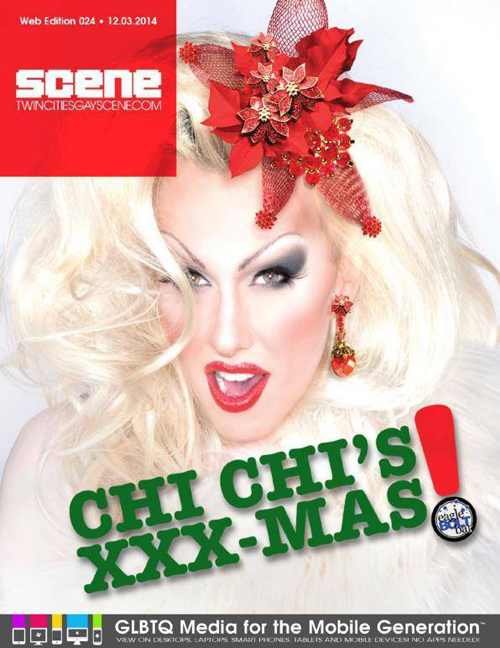 A HUGE THANK YOU ...
To everyone who came to our 45th Anniversary Celebration! You made it happen!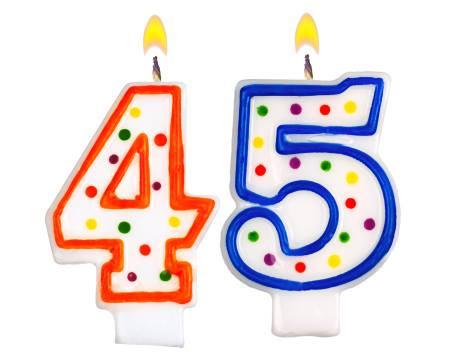 IN THE NEWS!
THANK YOU to our friends Cory and David at Twin Cities Gay Scene for featuring the TOWN HOUSE BAR on the cover of their latest edition! What a wonderful anniversary gift! Be sure to check out Mary Brewster's EXCLUSIVE interview with Holly Monnett!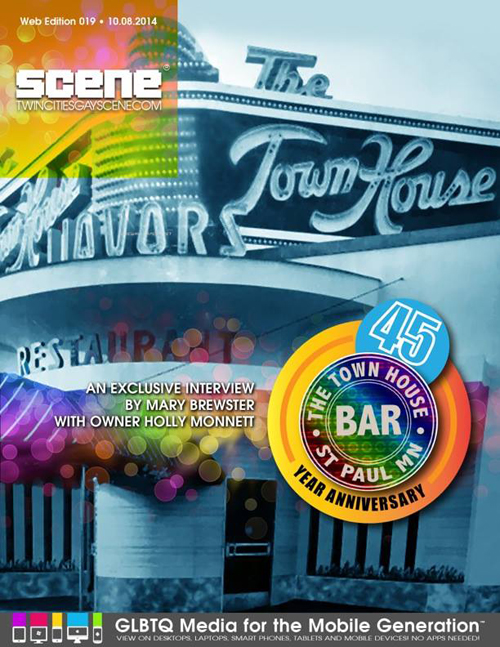 CONGRATULATIONS!
Introducing Dotti West, Toast of the Town House 2014